Book Review: A Rival Most Vial by R.K. Ashwick
Disclaimer: I had the opportunity to read a free copy as an ARC reader and am voluntarily leaving this review as I genuinely enjoyed (binge) reading it.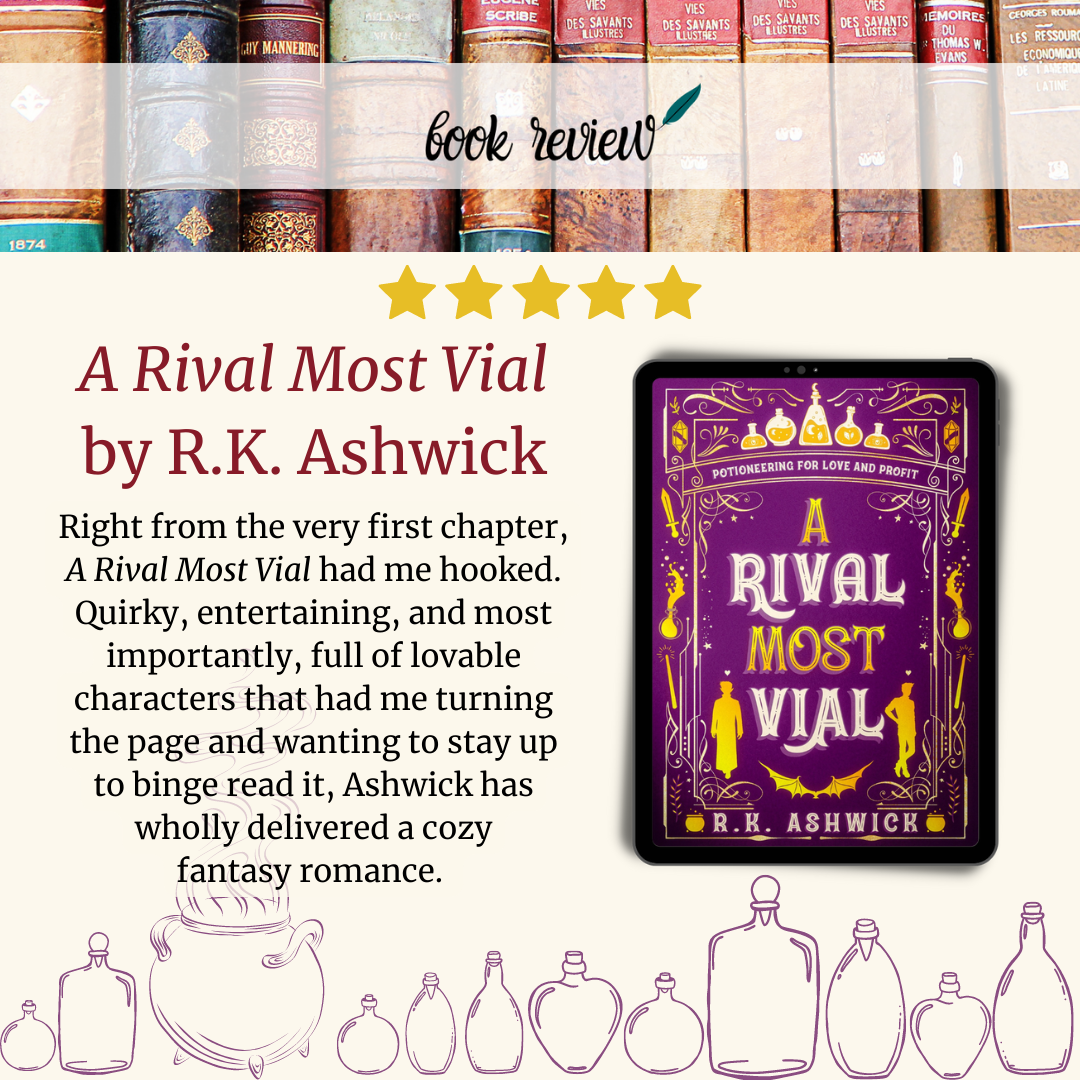 First off all, I legit almost binge-read this book one night and the only reason I didn't was because it was a Sunday night and I knew I had a busy day the next day. If it wasn't for that, I wouldn't have put ARMV down….though I did pick up first thing in the morning and read it over breakfast. Now that we've got the facts/life of an ARC reader out of the way, let me tell you a little more about what I liked from A Rival Most Vial by R.K. Ashwick!
Review Excerpt (full review on Goodreads):
Right from the very first chapter (or should I say "step 1" 😉) A Rival Most Vial had me hooked. Quirky, entertaining, and most importantly, full of lovable characters that had me turning the page and wanting to stay up to binge read it, Ashwick has wholly delivered a cozy fantasy romance. Not only did ARMV bring me back from the verge of a reading slump (brought on by a different yet popular fantasy franchise I might add), but it had me laughing, biting my lip, and cheering on this host of relatable characters. Ambrose, Eli, Dawn, and the whole cast of Rosemond Street merchants have an enviable dynamic, and though I wish we'd had time to do a deep dive into each and every one of them, the relationship between Eli and Ambrose is a top-tier strangers to enemies to friends to lovers arc that you could truly root for.
So who do I think will enjoy ARMV? If you like dynamic characters, subtle but impactful/natural world building, COZY VIBES, and soft romances (aka idiots/dorks in love), there's a very good chance that ARMV is right up your alley. And that's not even mentioning the potion brewing and magical elements of the novel or the heart in R.K. Ashwick's writing style.